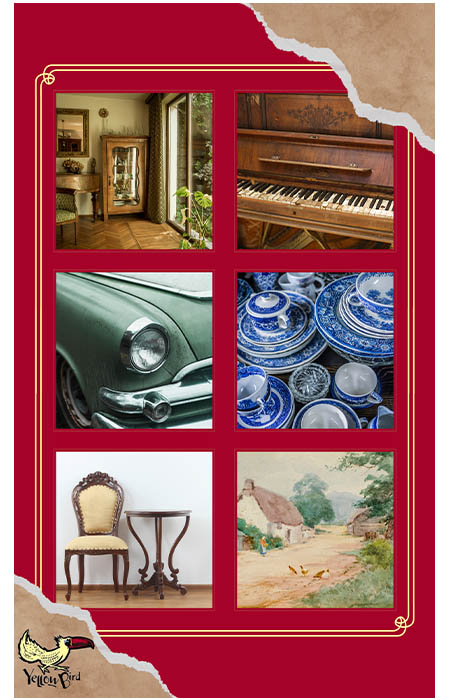 Yellow Bird: The Leader in Estate Sale Consignment
Looking to maximize the value of your valuable items and get the best deal possible? Look no further than Yellow Bird Consignment Sales! Our expert estate sales team is dedicated to helping you get top dollars for your prized possessions. From assessing your goods to implementing a secure payment system, we handle every step of the process with utmost care.
At Yellow Bird Consignment Sales, we understand the importance of making informed decisions. That's why our detailed appraisals provide you with all the necessary information to make the right choice.
Whether you have paintings, sculptures, antiques, jewelry, or furniture, our extensive expertise in managing consignments ensures that you receive a competitive price for your items.
With Yellow Bird, you can trust us to treat your items with the utmost respect and professionalism. Our goal is to maximize the value of your property and ensure that you walk away with the best deal available.
Contact us today and experience the difference of working with a trusted estate sales company for selling valuable items.
Estate Consignments Made Easy
At Yellow Bird, we recognize that consigning your valuable memorabilia can feel overwhelming. That's why we are dedicated to simplifying the entire process, ensuring it's easy and stress-free for you. Our team of experienced collectors specializes in rare and unique items, guaranteeing that you receive the best possible price for your item.
To maximize your consignment sale, we offer free evaluations. This ensures that you unlock the highest value for your item. Additionally, our tailored marketing plans and extensive network of connections ensure that your item reaches the right buyers, increasing your chances of a successful sale.
Don't hesitate to reach out to us today. For estate sales near me, let Yellow Bird assist you in optimizing the value of your valuable items, making the consignment process a breeze.